Aging & the Prison System Series with Anthony Ray Hinton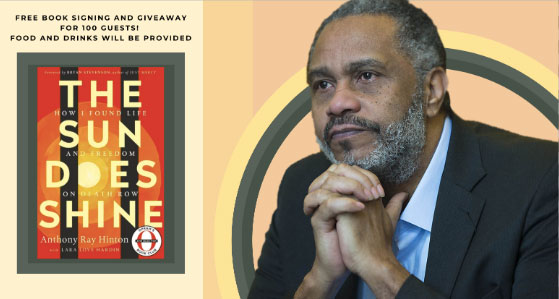 MAWOCC is pleased to partner with the Central Massachusetts Agency on Aging, the major sponsor of our 2023 annual meeting, for the upcoming event on October 9th at 5:30 pm, featuring Anthony Ray Hinton – Aging and the Prison System speaker series. The event will be held at the Central Community Branch YMCA on 766 Main Street in Worcester. View the event flyer here.
There will be a free book signing & giveaway for 100 guests. Food & drink will also be provided. Please see below for more details & register here – https://seniorconnection.co/anthony-ray-hinton
Anthony Ray Hinton, author of the best-seller The Sun Does Shine: How I Found Life and Freedom on Death Row, will visit Worcester, Massachusetts, on Monday, October 9, 2023, Indigenous Peoples Day.
Anthony Ray Hinton is the inaugural speaker for The Central Massachusetts Agency on Agency, Inc.'s (CMAA) speaker series "Aging and the Prison System." After being wrongfully convicted of murder, Hinton spent 30 years on death row in Alabama before his release in 2015. Mr. Hinton will discuss his navigation of the US prison system and its impact on his life and other older black and brown adults. The co-sponsors of this event are The Worcester Black Clergy Alliance, NAACP of Worcester, The Massachusetts Women of Color Coalition, and The Village Worcester. This event will be held at the Central Community Branch YMCA gymnasium at 766 Main Street, with doors open at 5:30p.m. Mr. Hinton will be signing and giving away 100 copies of his book. The event is open to the public and requires pre-registration.
Mr. Hinton was represented by attorney and social justice activist Bryan Stevenson, the author of Just Mercy "Just Mercy: A Story of Justice and Redemption" and the founder of the Equal Justice Initiative, and the nationally renowned Legacy Museum and National Memorial for Peace and Justice in Montgomery, Alabama. Oprah Winfrey has also interviewed Mr. Hinton several times; his book is one of her Book Club selections.
"Mr. Hinton's story is one of the most significant failures of our justice and prison system in modern history; the structural violence that Mr. Hinton endured for 30 years on death row in the state of Alabama for a crime he did not commit was, in fact, injustice. With a growing aging prison system of older black and brown adults, Mr. Hinton will provide great insight into how the sun shines after wrongfully being in prison" – Dr. Moses S. Dixon, President and CEO of the Central Massachusetts Agency on Aging, Inc (CMAA)