Diversity Business Exhibit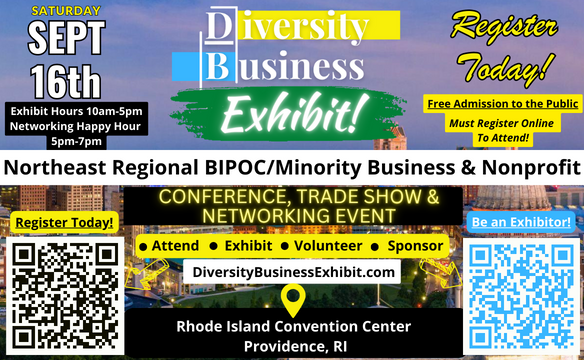 MAWOCC takes great pride in being a partnering organization for the Diversity Business Exhibit. We are proud to support the vision for a well needed platform for all Northeast businesses and non profits that are BIPOC led, to network, share information, and resources.
Special Discount:
A permanent 15% off Exhibitor booth packages to all MAWOCC members/subscribers using special promo code: MAWOCC15OFF
Nurture your professional connections alongside individuals and organizations spanning the northeast. Broaden your sphere of impact by forging meaningful bonds with the influential trailblazers of the region. Enhance your network and potential prospects as you cultivate authentic relationships during a day brimming with captivating activities and carefully tailored experiences. The Diversity Business Exhibit has several offerings/programming: grants, job fair info, entrepreneurship. I will be moderating a panel regarding Boards and Commissions. Additional resources will be available to small and micro entrepreneurs on the day of the event.
 
This event will hold Event Sponsorships, a Power Hour Speed Networking Segment, and much more. Register today! We hope to see you there. Please see the flyer below for additional information.