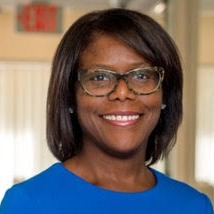 Magnolia Contreras, MSW, MBA is the Vice-President of Community Health at Dana-Farber Cancer Institute. Magnolia is charged with helping the Institute carry out its community benefits mission through the delivery of evidence-based cancer prevention, screening and early detection programs.
Her work is grounded on sound social work, public and community health theories that incorporate social justice and human rights principles. By choice, she specializes in the provision of services to communities of color and socially disadvantaged populations. Magnolia had a consulting services practice in non-profit management, political coaching and research. Today, she has over twenty years of experience in the nonprofit sector working on issues related to public health, public policy, health and community health care.
Magnolia is a graduate of Boston College, Simmons College Graduate School of Social Work and Suffolk University Sawyer Business School in Boston. She served as an Adjunct Faculty member in the Graduate School of Social Work at Salem State University, Simmons College and Boston College. She is also an alumni of The Partnership's Next Generation Executive Program.
Ms. Contreras has a strong record of community service through her philanthropic and volunteer efforts. Magnolia is a life-long resident of the City of Lynn and considers herself an engaged community member. She has volunteered on local boards of directors and believes deeply in the strength of the City of Lynn. Magnolia serves on the Salem State University Board of Trustees and on the Board of Directors of the Economic Development Industrial Corporation of Lynn (EDIC/Lynn). Ms. Contreras is currently a member of the Board of Directors for Health Resources in Action and is an Ambassador of the Eastern Bank Corporation.
Ms. Contreras' efforts have been widely recognized through numerous awards and recognitions for her professional and volunteer endeavors. She lives in Lynn, Massachusetts where she enjoys spending time with her family and friends.