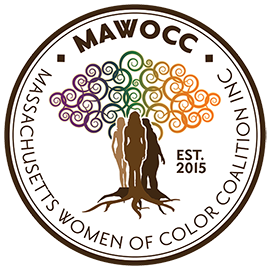 Brenda Jenkins
Founding Member
Brenda Jenkins has been working with vulnerable populations for 30 years. Brenda is committed as well as dedicated to improving the lives of men/women of color in addressing health disparities, social determinants, racism, and implicit bias that impact black/brown families.
Brenda was the former YMCA Health and Wellness Director and Community Relations Director that oversaw the Men's Health and Families Department for the last 15 year that connected families to health services, in the area of oral health, medical services and primary care physicians.
Brenda is currently the YMCA Central Branch Community Wellness Coordinator that oversees the Live Strong Cancer Program, and Enhance Fitness Program for seniors, Women Health Network Program that outreach to women who do not access Community Health Centers and in need of mammograms /cervical cancer screenings. She is the Visionary and Founding Member Founder for Massachusetts Women Of Color Coalition, the Chair for Health and Wellness Platform. In addition, Brenda is a leader in the Black Family Movement in Worcester that are organizing and mobilizing on racial equities.
Brenda is the Co-Founder/President Mosaic Cultural Complex of a multi-faceted, multi- dimensional organization that empowers, educates, and repairs men of color from across the county.
In 2010 Henry Lee Willis and Mosaic and partners establish Men's Health Alliance. Mosaic has convened a broad spectrum of institutions and community members that bring a variety of expertise and experiences related to the health and wellness of Men of Color (MOC). Members were strategically invited to the team because of their lens, expertise, resources, and access points they embody. This group consists of barbers, CBO's, mental health professionals, community organizers, public health, wellness, medical professionals, and clergy that have demonstrated a commitment to the health/ wellness of MOC through their work in the community. Most importantly, the majority of the consortium is comprised of MOC that represent the class, educational, employment, sexual orientation, and religious diversity within the Black and Latino communities of Worcester. This structure is intentional and allows for the design of the model to be led by MOC with the technical expertise contributed by professionals that also largely consist of MOC.
The coalition structure includes a Steering Committee, the full MOC Coalition which consists of all members of the coalition, and the Work Groups which are organized by strategic program activities. Through that course of action we develop Mosaic Barbershop Health Network where we collected data by race, ethnicity and disparities indicators. We expand community based participatory research and translation, form strategic multidisciplinary partnerships, advocate policy and system change and accelerate health among men of color. Mosaic is data driven environment that utilizes a national recognized web-based evaluation system Efforts to Outcome (ETO). This system allows us to track time and energy for every individual we work with, and provide outcomes we are looking for.
Brenda understands the issues that affect black/brown communities; such as health disparities; reparation, safety, health, and quality of life are issues that are important to these communities. I am a global thinker who identifies needs and visualize critical solutions. I PHS 398/2590 (Rev. 06/09) adept at evaluating and addressing challenging problems that impact black/brown communities on a daily basis.
Positions and Honors
American Red Cross (Real Hero's 2011) by Rayan Hughes Winner of 2012 Boston/New
England Award
Psychiatric New Article publish and recognize (Barbershop Health Network) on mental health screening program base in urban barbershops. (2011) Dr. Teo Carlo Straun/Brenda Jenkins
Safe Home Spring Gala and People of Courage Award for Social Justice and Advocacy.
Brenda Jenkins and Marie Boone
Women in Action Award: Recognize Mosaic work with Barbershop Health Network in urban
communities.
YWCA Katherine Erskine Award for Social Services and Government (2015) Award.
Progress in Community Health Partnerships; Vol 12, Iss-3 (Fall 2018) Nnaji, C. & Boone, M. & Pugnaire, M. P. & Goode, T. & Wellman, S. & Gunn, A. R. & Jenkins, B. & McNickles, J. & Gardiner, B. & Jerry, M. & Santos, M. & Powell, L. & Person, S. & Allison, J. (2018). An Innovative Simulation-based Community-engaged Intervention for Training Research Assistants in Culturally Appropriate Informed Consent. Progress in Community
Health Partnerships: Research, Education, and Action 12(3), 247-262.
President Obama's Life 'Time Achievement Award for Mosaic Cultural Complex/Barbershop Health Network (2017).
2002 Co-Founder of Local Network of Black Women
2005 Co-Founder of Black Legacy Coalition
2007 Co-Founder /Member of Worcester Racial Ethnic Health Equity Partnership Coalition
2010 Trustee for Spectrum Health Systems Inc.
2012 UMass Center for Health Equity Intervention Research Center
2012 Member of Transitional Team for State Auditor Suzanne Bump
2014 Communities United Collected
2014 Worcester Jobs and Labor Coalition
2014 Member of Transitional Team for Elect State Treasurer Deb Goldberg
2016 Board Member of League of Women Voters
2017 YWCA "Y" Women Speak Coalition
2020 Board Member for Our Story Edutainment