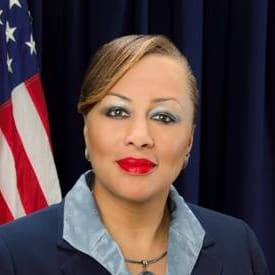 Celia Johnston Blue
President & CEO
Visionary & Founding Member of MAWOCC
In 2015, Celia collaborated with 12 women of color from across Massachusetts and led the development and public launch of the Massachusetts Women of Color Coalition (MAWOCC) Inc. In her current role as President and CEO, she is leading the organization to realize its vision and mission, overseeing the day-to-day operations while strongly advocating for the voices of women of color to be heard to address the inequities that are present in every aspect of our lives.
In her prior role, Celia Johnston Blue was the Interim Director of the Rhode Island Department of Human Services (DHS), a cabinet level position reporting to Governor McKee. Interim Director Blue oversaw approximately 1000 employees in multiple divisions, with a budget of approximately $900M, providing benefits and services to approximately 300,000 or 1/3 of Rhode Island's population. She oversaw many partnerships and collaborated with many federal and state stakeholders including the legislature and community organizations.
Prior to being appointed as Interim Director, Blue served as a former Chief of Staff and Deputy Director at DHS for over four years. Blue was also DHS' Chief Administrative Officer and the executive lead for human resources/personnel, information technology systems and support, performance analytics and continuous improvement as well as civil rights, diversity, equity and inclusion. Blue also served as the chief of staff of the Rhode Island Department of Transportation overseeing human resources/personnel, the office of the Director, public relations, communications and marketing, government, legislative and community affairs, information technology, policy and civil rights.
She is the former Registrar/CEO of Motor Vehicles for the Commonwealth of Massachusetts and is a seasoned executive leader with over 25 years of leadership experience in the private, public and nonprofit sectors, spending many years in the financial services industry. Blue is the first African American in Massachusetts' history to serve as the Registrar for the Commonwealth of Massachusetts. As Registrar, she managed operating and capital budgets totaling $280 million and oversaw approximately 800 employees in 31 locations.
Prior to her roles in Rhode Island, Celia spent nine years in the transportation industry in Massachusetts and nationally gaining experience in multiple modes: aeronautics, rail and transit, highway and the registry of motor vehicles. First appointed as a commissioner for the former Massachusetts Aeronautics Commission, she was later appointed as Deputy Registrar, Assistant Secretary of the Massachusetts Department of Transportation and then promoted to the position of Registrar/CEO of the Massachusetts Registry of Motor Vehicles.
She holds a Bachelor of Science degree from Worcester State University and a Master's degree in Business Administration from Anna Maria College and is currently enrolled in a PhD Leadership program at the University of Vermont. She has received awards for her leadership and commitment to diversity, equity and inclusion and was named in the Power 50, Class of 2021 by Worcester Business Journal.
Blue serves on the boards of several civic, community organizations in Central and Eastern Massachusetts. She currently serves on the board of the Worcester Regional Research Board, the Center for Women in Politics and Public Policy Advisory Board, McCormack School of Policy and Global Studies, University of Massachusetts, Boston, the Conference of Minority Transportation Officials (COMTO) Advisory Board, Boston Chapter. In addition, Blue is a founding member of Black Families Together, Worcester, MA and serves as a member of the leadership team. She is a Corporator for Girls Inc. Worcester and the YMCA of Central MA.
She served as a former Chair of the Abby Kelley Foster (AKF) Charter Public School District Board of Trustees, where she served on the board for 12 years. She was also the former President and founding member of the AKF Foundation and former President of COMTO, Boston Chapter.